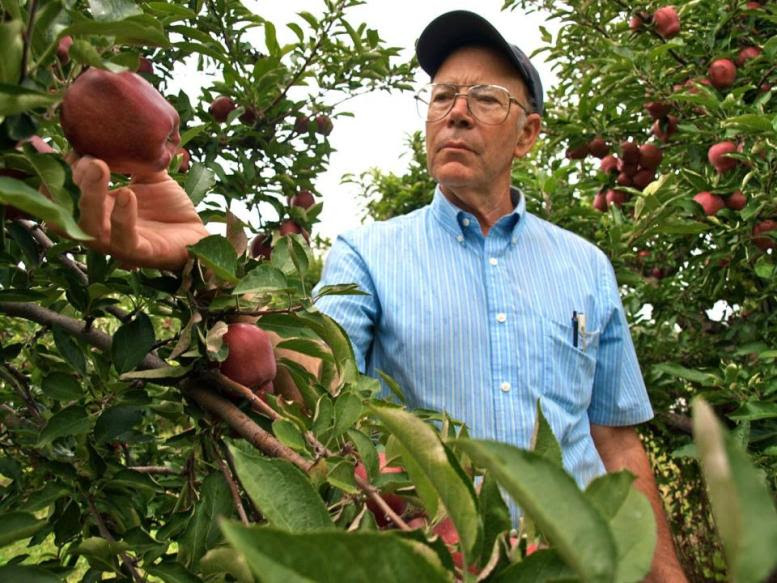 Farmer Paul checking the Red Delicious apples. He does a lot of checking to make sure the crops are healthy and well watered for you.
We are fruit farmers – for YOU!
We believe in opening up our farm to guests like you. That's why you can pick EVERY crop we grow directly from the tree, bush or vine that grew it. You know that tree-ripened, picked fresh is the way to get "the good stuff"
Here's a guide for you to plan your visits to the farm for "the good stuff":
Mid-June – Sweet Cherries
Late-June – Sour Cherries & Blueberries
Mid-July – Cling Peaches & Apricots
Late-July – Freestone Peaches – Our specialty!
Early August – Early Apples & MASSIVE Peach crop picking
Labor Day Weekend – Maize Quest Corn Maze & Fun Park Opens
Early September – Big-Time Apples
Late-September – Pumpkin Picking
Early October – MASSIVE Apple & Pumpkin crop picking
Oct-November – Fall Harvest Celebration with Maize Quest, Apples, Pumpkins, Group Tours, Bakery, Cider & TONS to do, pick, & EAT!

The best way to connect and stay up to date is on our facebook page at:
Click image to connect.
See you soon on the farm,
Farmer Hugh