Cherries are PRIME! | Farm Life Lessons | CSA | David Bowie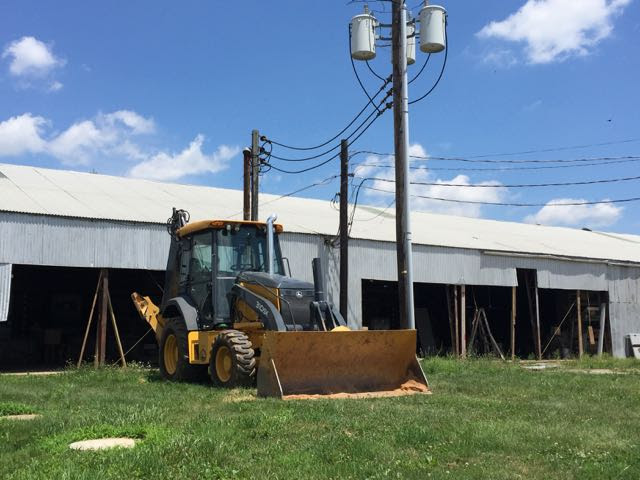 Repairs to the packing house include removing the side of the building temporarily!

Life on the Farm – "Cha-Cha-Changes"
"Time may change me, but I can't waste time".- David Bowie. I don't know what's with all the song inspirations, but I thought about this as we are installing downs, rebuilding the side of the packing house, planting and replanting trees, refinishing the kitchen.
It's just a bunch of cha-cha-changes.
How do you respond to change?
Fight or resist. This is a natural response to change – external forces try to make you do what's new or different. You resist!
Go with the flow. "Just like, whatever, man." Not always the best response either. This kind of attitude means you are subject to the will of others and the world.
Adaptive Action. Darwin said, "It's not the strongest or most intelligent of the species that survives, but the most adaptable." This type of change response means you are looking ahead to the new future and taking purposeful steps to adapt to the new conditions.
On the farm, you have to adapt. My father changed the business from chickens, potatoes and green beans, to row crops, peaches, apples and pick-your-own. In my lifetime, we've had to change from packing peaches and loading semi-trailers to retail, bakery, and agritourism.
We all go through changes, the question is how will we choose to react to those changes?
We at Maple Lawn Farms are adapting in a few new ways this year as well and we'll keep you posted on the progress, but for now, swing on by, see for yourself, and pick some cherries before they are gone.
Only two weekends of cherry season remain!
See you soon on the farm,
Farmer Hugh
PS Like David Bowie?
Here's a link to David Bowie singing
"Life is just a bowl of cherries."
Listen to the lyrics and enjoy!
https://youtu.be/pl3vxEudif8